ROUND ACRYLIC DOMES
CLEAR, WHITE & TINTED
"CLICK" on any image to enlarge. Use your browser's "BACK" button to return.





"Please be advised that material thins on top when vacuumformed"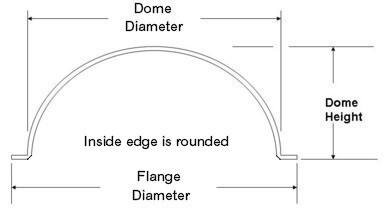 "PLEASE ALOW 10 - 15 BUSINESS DAYS TO SHIP
"PLUS TRANSPORT TIME FROM BARING PLT, MAINE 04694"
Clear, White & Tinted Acrylic Domes
3/16" thk x 13" diameter x up to 6-1/2" high plus up to 1" wide flange.

"SHOPPING CART WILL ADD SHIPPING & HANDLING FOR MAINLAND USA"
E-mail us for quotes to Alaska, Hawaii & other destinations.
You can change quantity and add other items at the shopping cart.


"CLICK HERE" TO RETURN TO DOMES.
Company Terms and Conditions
DISCLAIMER